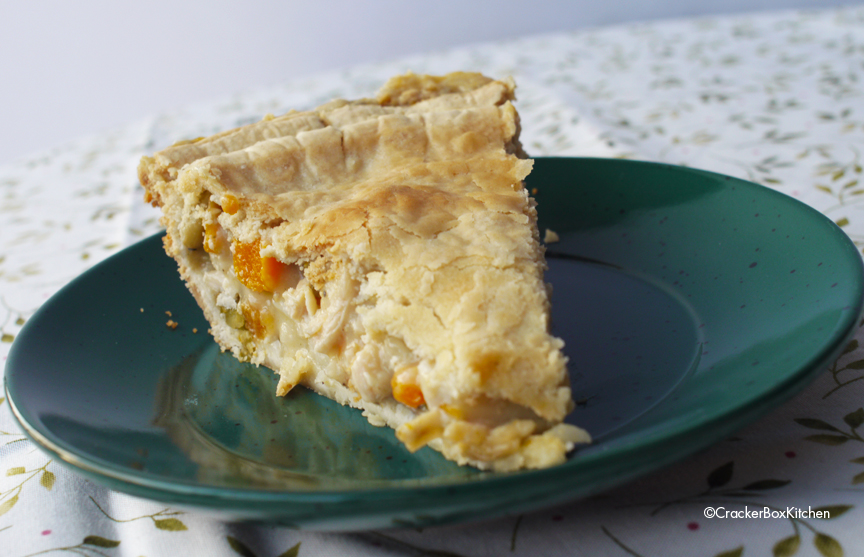 Usually, I wouldn't tout "homemade" dishes made from canned or pre-packaged ingredients. I like to cook most of my dishes from "scratch", with fresh ingredients.  But sometimes, you just need a quick and easy meal. And with one this tasty, you won't even miss the fresh ingredients. (Though to be honest, there are fresh onions, garlic, and milk – but that's it!)
My mama gave me this recipe years ago. Since I was previously only cooking for one (and this is a lot of food), I've only made it a few times.  Now that I'm cooking for two every night (plus lunches the next day), I do believe chicken pot pie is going into heavy rotation.
I made this for the office pot-luck back in December and it was a huge success. I even shared the recipe with one of my co-workers, and she's still raving about it! And perhaps the best thing, other than the flava, of course, is that the recipe makes two! You can bake one; freeze one for later. Or bake one, and take one to a pot-luck or an under-the-weather friend!
INGREDIENTS
-3 small cans "Veg-All No Sodium Added" mixed veggies, drained
-1 can cream of chicken soup
-1 can cream of mushroom soup
-5  5oz OR 2 12.5oz  cans chunk chicken, drained
-1/2 cup milk
-1 small onion, minced
-3 cloves garlic, minced
-1 tsp salt
-1 tsp pepper
-1 TBS original Mrs. Dash (or more, if you like)
-1 deep dish pie crust (come in packages of 2)
-1 regular pie crust (come in packages of 2)
*makes two chicken pot pies*
Preparation
I like to cook my pot pies in glass pie dishes, but if you don't have one, or don't want to dirty any extra dish, just bake your pie directly in the deep dish pie pan.
Preheat oven to 350°. Combine ingredients in bowl. Spray glass pie dish with non-stick cooking spray.
Gently remove deep dish pie crust from pan (I gently fold down the edges of the pan – this is where the dough sticks) and transfer to glass dish.
Measure in half of filling into deep dish. Gently remove regular pie crust from tin and flip over (inside part facing the filling) on top of the pie. Don't push the crust down! The heat from the oven will collapse the crust right on top of the filling. With a sharp knife, gently make slits for steam.
Bake for 45 minutes, or until contents are bubbling and pie crust starts to brown.  My crust never browns, so after 45 minutes, I turn on the broiler (don't walk away or you'll burn the crust!) and brown the top
Repeat with other half of the filling for second pie. If you're freezing other half of filling for later use, I recommend placing it in a freezer bag or air tight container. If you make and freeze the whole pie ahead of time, it gets really soggy and gross when you bake it. (Lesson learned the hard way.)  When you're ready to use, just thaw filling and pour into fresh pie shell.